Premier Sponsor

"Neighborhood Passports and Judy's tips! highly recommend CityPass, for it's savings as well as convenience!"
The San Francisco CityPass concept is simple: A booklet contains actual admission tickets to San Francisco's best attractions at almost 50% savings. That's right, you pay only $54 (for a $98.45 value)! Attractions include, Blue & Gold Fleet Bay Cruise Adventure, Aquarium of the Bay, the de Young Museum and Legion of Honor, San Francisco Museum of Modern Art, and the option to visit either the Exploratorium or the Asian Art Museum.
A valid CityPass also entitles the bearer to SEVEN consecutive days of unlimited, FREE use of all Muni services. THE PASSPORT IS VALID ON ALL MUNI VEHICLES INCLUDING OUR CABLE CARS. Without CityPass, a single one-way ride on a Cable Car costs $5 and a single one-way ride on a Muni bus costs $1.50.
Your Personal Concierge to San Francisco
Well hello there and thank you for joining us here for our first edition of "Neighborhood Passports" — San Francisco Edition. My name is Judy and I will be your guide and personal concierge as you begin to discover my beautiful city.

So sit back, relax, have a martini (I hope you are of age!) and allow me to escort you on your journey. Along the way I hope to answer as many of your questions as possible using our Local Insiders Secrets, from my Concierge Desk!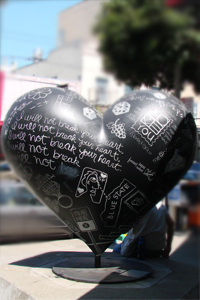 Hearts in San Francisco was a Bay Area-wide "heart art installation" that debuted in the spring of 2004.
We love San Francisco!
It's as simple as that and we want to share the "Locals Insiders Secrets" on how to get around, what to see, how to avoid most ticket lines and basically arm you with all the knowledge you need to enjoy a wonderful trip here in our beautiful city. The information on these pages of "Neighborhood Passport" will supply you with this and much much more. So hold on to your hats and glasses cause here's what you need to know.. Before you get here!
In my experience as Concierge and business owner living in San Francisco for over 15 years, I've seen it all.  So many happy people to be in our beautiful city and at the same time, so many discouraged faces when I tell them the restaurant they were so looking forward to dining in again is long gone, or the tour or attraction they were so excited to experience was completely booked through the end of the month.  Meeting all these discouraged travelers is what has given us at "Neighborhood Passports" the insight into informing people before they get here, and why It was so important for us to put together this web site. 
So sit back, enjoy a glass of wine (or a martini!) and I will help you save time and money as we do all the research for you on your next vacation in my beautiful city, San Francisco!
Neighborhood Passports Exclusive
"Know Before You Go" San Francisco Package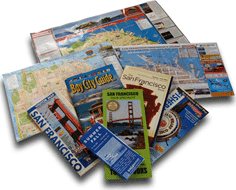 Our Exclusive "Know Before You Go...San Francisco" package is finally available. By ordering this popular and entertaining package you will be able to review our best maps, enjoy Official City Guide Books filled with sights, sounds and tastes only found here in San Francisco, all in the comfort of your own home! Don't spend your first days in San Francisco trying to figure out what you want to do, plan your vacation out so it personally meets you and your families needs ahead of time. San Francisco has so much to see and do, I don't want you to miss anything. That's what "Know Before You Go...San Francisco" is all about.
By reviewing all these maps and books in advance (these are otherwise only available at certain hotels through your concierge once you arrive!) you will be able to locate all your favorite neighborhoods for shopping, find your hotel, locate Fisherman's Wharf, downtown, as well as find that favorite restaurant you just read about.
Our complete package is only $9.95, we pay all shipping and handling costs. Here is what you will receive! Several specific maps from our Concierge Desk showing bus routes, cable car routes, streetcar routes and points of interest.
Along with these great maps you will receive two of our best San Francisco Guide Books with ideas on what to do, where to go and how to get there. These Guide Books are filled with San Francisco Sights, Maps, Entertainment, Dining, as well as great Shopping. Discount coupons are included in these guide books and maps for most of our (and soon to be yours) favorite tours and attractions including: Bay cruises, City Sightseeing Tours on open deck buses, SF Duck Tours, Go Cars, Bike the Bridge coupons, Aquarium of the Bay at Pier 39 discounts, and much much more. These coupons alone are worth more than $100.00 and are only available in advance through our "Neighborhood Passports, "Know Before You Go...San Francisco" package.