15 Things To Do As A Family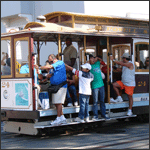 1. San Francisco Cable Cars
"With little cable cars, that fly half way to the stars," Ahh yes...Tony Bennett!
Cable cars have been going up and down San Francisco's hills since they were invented in 1873.


Three lines remain: Powell-Hyde, Powell-Mason, and the California line. The first two lines can be crowded so, if you don't want to wait to get on, try the California line.  You won't have the views but at least you'll have the experience of riding on a cable car.  The cable cars run between Van Ness Avenue and Market Street on California Street. All cable cars cost $5/person.

2. The Cable Car Museum
Learn How the Cable Cars Work: The Cable Car Museum is home to the motors that turn the four cables that enable San Francisco's cable cars to move. In addition to viewing the motors and cables, the museum houses old cable cars, informative displays, and a gift shop. The museum is on the corner of Mason and Washington Streets and is serviced by both of the Powell Street cable car lines. Admission is free. The museum is open daily from 10:00 a.m. until 5:00 p.m. from October 1 through March 31. It stays open until 6:00 p.m. during the remainder of the year.
3. Ride a Carousel
Small children love to ride carousels and San Francisco is home to three beauties.
Children's Playground in Golden Gate Park This 92-year old vintage carousel is a much loved-attraction for locals and visitors alike. Originally built near Buffalo, NY in 1912, the ride was moved to several different amusement parks before finding its way to the Golden Gate International Exposition on Treasure Island in 1939. After the fair closed, the carousel was purchased for the Children's Playground and has been in its current location since 1941. The existing carousel, however, is not the first of its kind on this site. The original, opened in 1888, was a simple tent that housed gray, primitively-carved wooden horses, and was run by a steam engine in an adjacent building. Today, you'll find horses, zebra, lions, deer, camels, ostrich, cats, dogs, and more, on this vintage carousel.
Address: Golden Gate Park – SE end of park at Kezar Road and
MLK Jr. Drive
Web: www.sfpt.org

Yerba Buena Gardens is home to the historic Charles Loof Carousel. Built in 1906, this carousel was located at San Francisco's Playland-at-the-Beach from 1912-1972. The carousel is open daily from 10:00 a.m. until 6:00 p.m. Have a ride for $2 bucks.

The Carousel at Pier 39, handcrafted in Italy, is intricately hand-painted and depicts famous San Francisco landmarks, including the Golden Gate Bridge, Coit Tower, Chinatown, Lombard Street, Alcatraz and the popular California sea lions at PIER 39. It is the only carousel in the country that has artistic renderings of its home city. Eighteen hundred twinkling lights illuminate this carousel, which features classic moving horses, rocking chariots, spinning tubs and swings. Throughout the ride, patrons hear traditional organ music and see PIER 39's bustling promenade. The carousel is located on the first level at the Bay end of PIER 39. Cost per ride is $3.00.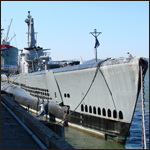 4. Explore Old Ships
The Hyde Street Pier is home to a collection of beautiful, historic ships. The oldest is the Balclutha, a square rigger built in 1886. Admission to the pier is free. There is a $5/adult fee to enter the ships. Children under the age of 16 can enter the ships for free. The pier is open from October 2 to May 30 from 9:30 a.m. until 5:00 p.m. The balance of the year, the pier remains open until 5:30 p.m. Across the street, at the corner of Jefferson and Hyde Streets, is the Visitor Center for the San Francisco Maritime National Historic Park. Stop in here for interesting nautical displays.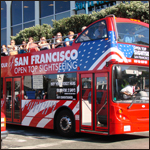 5. Open Top Sightseeing
See the city from atop an authentic English Double Decker Bus! Enjoy a fully guided 1.5 hour tour of San Francisco's most famous sites, with unlimited hop on and off privileges up to 48 hours from your first ride! Fully narrated for your enjoyment A single ticket is valid for 48 hours. There are 20 designated hop-on locations & a bus every 30 mins. Enjoy the city lights and skyline on their Night Loop. Stops Include:
Fisherman's Wharf    
Ferry Building
North Beach and Coit Tower
Union Square
Chinatown Gate    
The Golden Gate Bridge
The Presidio
Ghirardelli Square 
Pacific Heights
Palace of Fine Arts & The Exploratorium
Financial District, and more.
www.OpenTopSightseeing.com.
Judy's Tips! 

On this particular tour, you will be going over the Golden Gate Bridge so be prepared.  If it is a warm beautiful Indian Summer day it will be incredible.  Be warned however…if it is cold or foggy in the city it will be freezing on the bridge. If you are up top be prepared, for strong winds and heavy rain-like fog.  If there is room on the lower level go downstairs where it is warm.  Be sure to dress accordingly.  We would still recommend a warm shawl or scarf for your neck just in case you decide to sit up top.
6. Play Antique Arcade Games
The Musee Mechanique is home to a wonderful collection of antique arcade games. Children will put down their Gameboys to play these charming oldies. The museum is located in Pier 45, Shed A at the end of Taylor Street on Fisherman's Wharf. Hours are 10:00 a.m. to 7:00 p.m. on weekdays and to 8:00 p.m. on Saturdays, Sundays, and holidays. Admission is free, but you will need a bunch of quarters to play the games. There is a change machine in the museum.
7. Alcatraz
This old prison was home to some of America's most infamous convicts: the Birdman (Robert Stroud), Al Capone, Alvin "Creepy" Karpis, and many more. It is highly recommended that tickets are ordered 2-3 weeks in advance on-line through their website as this is one of the most popular tours in San Francisco.  Ferries depart from Pier 33. More information may be obtained at:  www.alcatrazcruises.com.
Judy's Tips! 

We can't stress this enough!  Buy your tickets 2-3 weeks in advance on-line or you will never set foot on the island!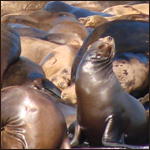 8. The sea lions
Camped out in PIER 39's West Marina have been endearingly coined, "Sea Lebrities." Our boisterous barking sea lions started arriving in droves, taking over the docks in January 1990 shortly after the 1989 Loma Prieta earthquake. At first they numbered from 10-50, but due to a plentiful herring supply, available dock space and the marina's protected environment, the population grew to more than 300 within a few months. Each winter, the population can increase up to 900 sea lions, most of which are male. During the summer months, the sea lions migrate south to the Channel Islands for breeding season, but in recent years a small group stays year-round at PIER 39's K-Dock.


Staff from The Marine Mammal Center's Kiosk, located next to the sea lions, are happy to inform visitors about these fun, flippered animals. Each weekend, weather permitting, the Center provides volunteer docents at K-Dock who explain sea lion behaviors and answer visitors' questions. More information and interactive exhibits are available on Level 2 of PIER 39 at The Marine Mammal Center's Interpretive Center and Gift Store. For more information about California sea lions and The Marine Mammal Center: www.marinemammalcenter.org or 415.289.SEAL.
9. The Aquarium of the Bay
Discover what lies beneath the waves of the San Francisco Bay.  Journey through 300 ft. of crystal clear tunnels filled with 20,000 incredible marine animals, including seven gill sharks, the Bay's largest predators.  It's like skin diving without getting wet!  Touch sharks, rays, skates and sea stars. 


Daily special events every week include animal feedings, naturalist presentations and behind the scenes tours.  The first 500 visitors every day during the summer get free shark hats.  For further information, call 1-888-SEA-DIVE or 1-415-623-5300 or visit www.aquariumofthebay.com.
10. Riptide Arcade
The Riptide Arcade is the largest games arcade in San Francisco, an action-packed family entertainment center that features more than 100 of the latest cutting-edge video games, virtual reality units, popular novelty games and traditional favorites such as an old-west style shooting gallery. The award-winning prize redemption center is packed with great incentive prizes to satisfy all ages. No matter what skill level, there's fun for everyone in store at Riptide Arcade.. Purchase of tokens required. For further information, call 415.981.6300.
11. Frequent Flyers
A fun-filled bungee trampoline for all ages. Participants can safely jump up to 20 feet in the air and try their hand at some aerial acrobatics. Jumpers must be at least 30 pounds and under 230 pounds. Admission is $10 per session. For further information, call 415.981.6300.
12.Turbo Ride 4D
Get ready to hold on tight!  Turbo Ride 4D launches riders into three fabulous 4D Ride adventures.  Experience stunning 3D combined with a forth dimension of special FX.  This is no ordinary movie.  Wind, smoke, mist, strobe lighting, and motion FX create a realistic ride experience you won't soon forget.  Fun for the entire family.  Now Showing:  Dino 4D, Extreme Log Ride, and Monster Trucks 4D.  For more information, call 415.392.8872.
13. Blue & Gold Fleet
The premier ferry service provider on San Francisco Bay. Visitors to the Bay Area always love an opportunity to see the City's breathtaking views and surrounding marine beauty. The locals love it as well.
Cruises offered by Blue & Gold Fleet include:
* Bay Cruise Adventure
* RocketBoat
* Escape From the Rock
* Angel Island
(Available in our San Francisco Insider's Package)
14. The Exploratorium
The Exploratorium is an experimental, hands-on museum designed to spark curiosity—regardless of your age or familiarity with science. There are hundreds of exhibits to touch, pick up, and tinker with. Your curiosity can be your compass to endless discoveries!  Go to: http://www.exploratorium.edu for more info.
15.  San Francisco Duck Tours, aka Bay Quackers.
Experience San Francisco's newest attraction and a better way to see San Francisco, on board one of DUKW's, (we call 'em Ducks!) an original, refurbished World War II Amphibious landing craft. Bay Quackers is a fun-filled, memorable 80-min Surf & Turf Duck Tour of San Francisco and the Bay. See North Beach, Chinatown, Union Square, Soma, McCovey Cove, San Francisco Bay, Coit Tower and more while quacking your way through the city.  www.BayQuackers.com
Our Sponsors