Our Local Transportation
Cable cars, Streetcars, Bart, Muni, taxis and ferries. Oh and Zip Cars!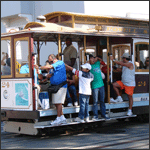 The Cable Cars
San Francisco's cable cars are one of the city's signature attractions. Invented in 1873, cable cars have traveled up and down San Francisco's hills ever since, except for two years in the 1980s when the system was closed for repairs.


Three lines remain in San Francisco: Powell-Hyde, Powell-Mason, and California Street. Tourists flock to ride the cable cars resulting in hour-long waits at the cable car turnarounds.
 Judy's tips!


Ride the California Street line. If you just want to ride a cable car and don't care about the views or don't need to go to either Union Square or Fisherman's Wharf, ride the California Street line. There are almost never lines to board the cars at the ends of the line at California Street & Van Ness Avenue and California & Market Streets.


Many visitors find themselves at the foot of Market Street, near the Ferry Building, so you can easily get to the Market Street end of the California Street line. If you want to go to Fisherman's Wharf or Union Square from this end, take the California Street Line to Powell Street and transfer to one of the two Powell Street lines. You will have to pay the $5 fee on both cars unless you buy a Muni Pass ($11/one day, $18/three days, $24/three days).
More Judy's tips for cable cars!

Want to escape the long lines at the cable car turnarounds, ride the Powell Street lines before 9:00AM or later in the evening after 8:00 or 9:00PM.  Be aware though the Powell Hyde line is always the most popular as it passes by the top of Lombard Street, "The Crookedest Street, and has the best views.


Also try walking up a couple of blocks away from the cable car turnaround and hop on.  You can pay the fare when you hop on.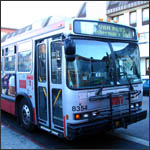 MUNI Bus Lines
Our municipal transportation system is wonderful (MUNI), not to mention efficient and cheap.  Most lines are bright and clean and clearly you will see most of the locals take it.  In our Special Package, we have included a terrific map of SF showing major Bus lines, so you can get an idea how to get from one point to another, and save time. Also go to: http://www.sfmta.com/cms/home/sfmta.php for more information.


Oh yes, a question I get a lot is how and when do I pay for the bus. The bus is exact change, $1.50. You will get a transfer that lasts at least 1 1/2 hours so you can transfer to another bus line if you need to get to your destination. The buses take Dollar bills, and change and you pay this as soon as you step inside the bus in a little meter box.
Judy's Tips!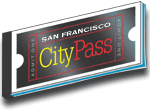 I  highly recommend a 1 day, 3 day or 7 day pass, depending on your length of stay as this will definitely save you money. See our listed sponsers for passes for transportation as well as discounts for several attractions.


Look for Muni pass, The Wharf Pass, and CityPass on this page.
San Francisco Historic Streetcars
Our Famous F line Streetcars are actually part of our Muni bus system. Seventeen PCC streetcars are in regular F-line service (fourteen from Philadelphia and three from Muni). The cars are painted in the PCC colors of Muni and other transit agencies in the U.S. PCCs are streetcars that were originally designed under the direction of the Electric Railway Presidents' Conference Committee, in an attempt by twenty-five U.S. and Canadian transit companies to develop a standardized streetcar whose many improvements would help to reverse the decline in transit use that had begun in the 1920s. PCC cars were first put into service in 1936. Their streamlined design was attractive, and they were quieter and more economical than earlier versions of streetcars, with better motors, controls, acceleration, and braking.
Our streetcars have beautiful routes, cost only $1.50 and are lots of fun to ride.  For more information go to: http://www.sfmta.com/cms/mfleet/histcars.php 
BART
The San Francisco Bay Area Rapid Transit District (BART) is a heavy rail public rapid-transit system serving the San Francisco Bay Area. The acronym BART is pronounced as a word, not as individual letters. It opened for service on Sept. 11, 1972 with the first line being Fremont. It was a replacement for the Key System trains, which ran across the lower deck of the Bay Bridge until 1958.  For more information including, rider guides, schedules and stations, please go to:  http://www.bart.gov/.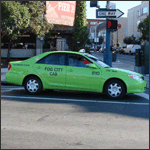 San Francisco Taxi Cabs - Taxi Basics
San Francisco is touted as a walkable city, and it is. Using MUNI and a good pair of walking shoes, you can cover a lot of terrain. There are times, however, when you don't want to force your 80-year-old mother up California Street on foot. It helps to have a few basic taxi facts.


How to Spot a Real San Francisco Taxi
The San Francisco Taxi Commission advises you to look for the following:
* The words "San Francisco Taxi Cab" on the side and rear of cab
* A small metal license plate on the dashboard
* A driver's ID visible from the backseat


Legitimate San Francisco taxis are insured, and drivers undergo background checks. Security cameras are also mandated in San Francisco cabs. As in New York and other cities, San Francisco taxis signal their availability by the lighted sign on top of the cab. When the sign is illuminated, the taxi is available. Note that drivers may have their light on when answering a call for service or when heading off shift. So, you don't have to take it personally if an available cab refuses to stop.