Our Top 10 List of Things To Do In San Francisco
1. Alcatraz Prison Island Tour
This old prison was home to some of America's most infamous convicts: the Birdman (Robert Stroud), Al Capone, Alvin "Creepy" Karpis, and many more. It is highly recommended that tickets are ordered at least 2-3 weeks in advance on-line, through their website as this is one of the most popular tours in San Francisco.  Ferries depart from Pier 33. More information may be obtained at:  www.alcatrazcruises.com.

2. The Ferry Building
Every Tuesday and Saturday The Ferry Building shows off our  California certified Farmers by offering a wealth of produce, flowers, breads, cheeses and jams, many of whom are certified organic. Saturdays huge market is held both in front of the Ferry Building on the Embarcadero and on the rear plaza overlooking the Bay. On Tuesday, the market spills out of the Arcades onto the Embarcadero sidewalk. Ride our historic F-line streetcar straight to the Ferry Building via Market Street or the Embarcadero to complete this beautiful day in San Francisco.  Go to: http://www.ferrybuildingmarketplace.com/farmers_market.php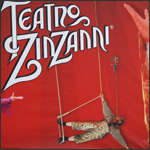 3. Teatro Zinzanni
A Gourmet Five-Course Dinner including Live Music, Cabaret, Divas and Madmen. This triumph of Love, Chaos and Dinner will appeal to all of your senses.  Set in a nightclub you've never even dreamed about, get ready for an indescribable over the top 3-hour performance. One of the locals favorites as well, this is a must see.  Go to: http://love.zinzanni.org/info.htm
4. Wine Country
Drive your own car, rent a car, hire a limousine or simply sign up for a tour company to escort you.  Which ever way you decide to get to the wine country…just be sure to go!  We've been to so many different wineries and on so many different wine tours it's hard to pick which is the best.  For our money if you want someone else to do the driving we would recommend letting Tower Tours take you there.  The buses are gorgeous and comfortable, and you have a designated driver to get you home safely.  By the way the drivers are extremely knowledgeable and have a great sense of humor, so just getting there will be half the fun!  Go to: http://towertours.com/
 Judy's tips! - Renting a car

Want to rent a Zip car for the day?  Drive a Prius, a Mini, a Pickup, an SUV?  Zip Cars has them all (they pay for the gas, insurance and have reasonable rates to boot!)  Go to www.Zipcar.com and check these guys out.  They keep things simple, you can rent by the hour or by the day and you can use them in different cities all over the world. (Make sure you have a designated driver if you're off to the wine country!)


Also check out Thrifty Rental cars for great prices on great cars like Prius! (See our Sponsors to the right)
5. San Francisco Museum of Modern Art
The San Francisco Museum of Modern Art is the only museum in the western United States devoted to collecting and exhibiting the full scope of modern and contemporary art. Plan to spend several hours here, MOMA is a beautiful space and you will want to walk through the different collections and exhibitions at your leisure. http://www.sfmoma.org/visit/visitinfo_hours.asp
San Francisco Museum of Modern Art
151 Third Street (between Mission and Howard Streets)
San Francisco, CA 94103
Telephone: 415.357.4000
Fax: 415.357.4037
6 . Palace of Fine Arts
Oh my yes....The Palace of Fine Arts is one of the most beautiful structures you will ever have the pleasure and priviledge of seeing. Be sure to bring your camera, the classical Roman rotunda and curved colonnades demand to have their picture taken.  Also a favorite place for brides and bridal parties, very beautiful and romantic.  Although it is not actually a palace, the structure was originally built for the 1915 Panama-Pacific International Exposition. Located in the Marina District and easily accessible by the #30 Muni Bus, it is surrounded by beautiful greenery, a lake accented by beautiful Swans and is the home of The Exploratorium. The Exploratorium is an experimental, hands-on museum designed to spark curiosity—regardless of your age or familiarity with science. There are hundreds of exhibits to touch, pick up, and tinker with. It will definitely spark your natural curiosity.  Go to: http://www.exploratorium.edu for more info.
San Francisco, CA 94123
Administrative Office: (415) 563-6504
Box Office: (415) 567-6642
Fax: (415) 567-4062
http://www.palaceoffinearts.org/
7. Golden Gate Bridge
The Golden Gate Bridge is acclaimed as one of the world's most beautiful bridges. With its tremendous towers, sweeping main cables and great span, it is a sensory beauty featuring color, sound, and light. It is one of our treasures in San Francisco, so be sure to walk it, bike it, drive it, or at least see it up close and be in awe! Take the #30 Muni Bus to the #28 bus and you'll be right there, It is "magnificent" from every angle. Go to: http://goldengatebridge.org/visitors.
8. Golden Gate Park
Golden Gate Park is so filled with things to do I almost don't know where to begin. Let's try these ideas for a good start!
The Conservatory of Flowers. Housed in a tranquil and beautiful Victorian style conservatory, this incredible "flower museum" contains an incredible display of over 1500 species of plants native to dozens of countries. 
The De Young Museum of Art is a world class art museum placed here for tourists as well as locals to enjoy.  The architecture itself is a very controversial piece of artwork created by Pierre de Meuron and Jacques Herzog.  Come in and enjoy this fantastic structure as well as the classic and impressionist art it exhibits.  We guarantee your visit will be memorable!
Strybing (Outdoor) Arboreteum has tons of beautiful plants from around the world. Possibly the best walk in all of San Francisco, and the admission is Free!
Steinhart Aquarium
The Aquarium is under renovation and temporarily housed at 875 Howard Street and 5th.  (South of Market Street)  The Grand re-opening of the Aquarium at Golden Gate Park is expected to be re-opening this month (September) 2008.  Go to: http://www.sanfranciscovisitor.com/aquarium-san-francisco.html for more specific information on this temporary location.
The Japanese Tea Garden
You can enjoy the Japanese Tea Garden any day but if you're here on the weekend, go on Sunday when the park is CLOSED TO CARS and filled with rollerbladers, bikes and joggers.  Enjoy tea and traditional Japanese crackers right in the tea garden while admiring the beautiful foliage.
For more information on all of these places of interest inside Golden Gate Park go to: http://www.sanfranciscovisitor.com/ggpark.html
 Judy's tips! - Sundays in Golden Gate Park

Do you enjoy bike riding or rollerblading?  Golden Gate park is one of the best places to ride.  Cars are banned every Sunday from 5am to 5 pm, so come out and enjoy the beauty and freedom, even if you're just walking or jogging. There are many bike rentals in the Haight Asbury district to start you off right.
9. Beach Blanket Babylon
Steve Silver's Beach Blanket Babylon, the longest running musical revue in theatre history, is a zany musical spoof of pop culture with extravagant costumes and outrageously huge hats. Now in its 34th year of sold-out performances, Beach Blanket Babylon is an internationally acclaimed San Francisco institution. With more than 12,000 performances in San Francisco, the show has performed for standing room only during its London and Las Vegas engagements. Beach Blanket Babylon continually evolves in its hilarious parodies of current events and popular icons as todays headlines unfold.  Go to: http://www.beachblanketbabylon.com/ or go to www.Goldstar.com where sometimes they have half price tickets available.  Either way this show is a must!  
 Judy's tips! - Events, events and more events

We couldn't possibly list all the great event happening in the city so look for other great shows and events in San Francisco by visiting www.Goldstar.com! Up to date with great prices and some events are also free when you sign up for a free membership. Definitely worth the time (and cost - free).
10. The View Lounge, Top of the Mark and The Starlight Room
These are 3 of our most beautiful spaces to enjoy a cocktail, hear some music, perhaps dance and see our Beautiful San Francisco from the sky!
"The View" located at the beautiful Marriott Hotel downtown at 55 Fourth Street offers cocktails, light snacks and a spectacular view of the city from 39 stories atop the hotel.  Casual attire is fine here!  Information: http://www.marriott.com/hotels/hotel-information/restaurant/sfodt-san-francisco-marriott/
The Top of the Mark
Located on the 19th floor of the InterContinental Mark Hopkins Hotel, the world-renowned "Top of the Mark" sky-bar affords a near 360 degree vista of San Francisco including views of the magnificent Golden Gate Bridge, Fisherman's Wharf, and Alcatraz. Check their website for their entertainment schedule and enjoy the view, the music and a lovely cocktail.  Famed for its 100 Martinis menu, the Top Of The Mark has been rated as one of the 26 "World's Best Hotel Bars" by Forbes.com two years consecutively. I would dress up for this one!  For more information go to : http://www.topofthemark.com/entertainment.html
Starlight Room
Sir Francis Drake Hotel on the 21st floor,
450 Powell Street at the corner of Sutter Street
Reservations: 415-395-8595
Located in the Sir Francis Drake Hotel, this gorgeous gem has a definite 1930's glamour.  Sitting at the very top of the Sir Francis Drake Hotel, expect an over the top quite breathtaking 360-degree view and an equally elegant nightclub setting. Cocktails, hors d'oeuvres, music and a great dance floor complete the package.  Really gorgeous and a great place to see and be seen!  Dress to impress. Go to: http://www.harrydenton.com/