Location, location, location! Saving you time and money
Motel Row on Lombard St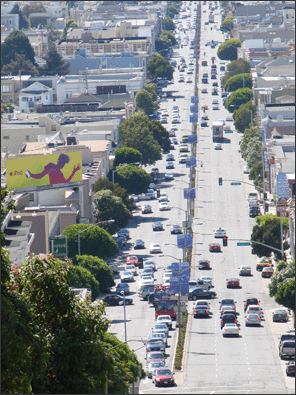 Lombard Street facing west from the top at Hyde Street.
This end of Lombard is one of San Francisco's
main thoroughfares.
Lombard Street Motels
This next bit of information alone will save you quite a bit of money. If you're flying to the city (SFO or the Oakland airport) you probably will want to rent a car to get around.  First off, we always suggest public transportation, and airport shuttles, as parking is always difficult not to mention expensive. However if you decide to rent a car, or you are driving to San Francisco, here is a great idea on how to save money on gas, and parking.  Consider a motel on Lombard Street also known as Motel Row. Yes, I know, the East side of Lombard street "is" the crookedest street, however the Western end of the street has several great places to stay with better rates than the Wharf or downtown. These motels all have free parking included in their prices, whereas the larger hotels downtown can cost up to $30.00 a day just to house your car. Some of these motels also offer free continental breakfasts!
If you drive into the city, park your car until you leave. With parking rates very high, and parking in general very limited, you'll save money by taking the buses, cable cars and taxi cabs. When there are four of you or more, a taxi is less expensive than taking the bus. (You will need the car for trips outside the city, Sausalito in Marin County and the wine country, or just driving yourself across our beautiful Golden Gate Bridge.
Here are some listings of properties that have free parking and are quite reasonable.  Nothing fancy here but I have had guests stay at most of these properties before, so I know first hand that they are really very comfortable and clean. Also all of these properties I've listed are close to the Golden Gate Bridge, Palace of Fine Arts, Union Street (shopping) and the Marina District. So this is a great central location.
The Marina Motel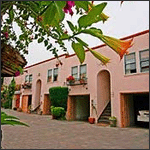 The Marina Motel, built to celebrate the opening of the Golden Gate Bridge, is a historic Mediterranean-style motel nestled in the heart of San Francisco's quaint Marina District. Their 36 guestrooms and three suites are uniquely decorated with warm, stylish touches to make you feel at home. The quaint courtyard, surrounded by colorful cascading flowers and a cobblestone driveway, offers a relaxing place to chat with friends. Flower boxes overflowing with fragrant blossoms adorn the windows adding European cottage charm. San Francisco's top attractions are located within walking distance or a short bus ride from the Marina Motel.  Another plus is this is a dog friendly property so you can take your baby along with you if you want!
The Marina Motel
2576 Lombard Street, San Francisco, CA 94123
Toll Free: 800-346-6118 , Phone: 415-921-9406
Fax: 415-921-0364
Town House Motel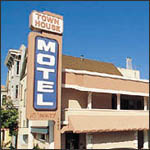 The Town House Motel has 23 spacious guest rooms , with one King or two double beds, and are complimented in a modern décor. Rooms are equiped with color cable TV, direct dial phones, and an am/fm radio. A "complimentary continental breakfast" is served in the hospitality room every morning. And of course convenient parking is FREE!
1650 Lombard Street
San Francisco, CA 94123
(415) 885-5163
(800) 255-1516
Fax: (415) 771-9889
SFinns@aol.com
The Chelsea Motor Inn
The Chelsea Motor Inn has comfortable rooms and is clean and affordable. This beautiful motel is characteristic of an English Tudor style home and each room is spacious with a comfortable seating area and good sized bath. Their staff will happily assist you with directions to many of San Francisco's great neighborhoods, and attractions. FREE parking and FREE wireless internet access as well.
2095 Lombard Street
San Francisco, CA 94123
Tel: 415-563-5600
Fax: 415-567-6475
Cow Hollow Motor Inn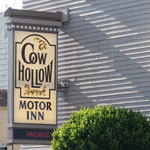 Free parking of course but rather charming, clean and comfy as well. This is a sister property of The Chelsea Motor Inn and is known for its rich architectural flavor and quaint neighborhood charm. FREE covered parking and great transportation via muni bus to anywhere in the city. Great central location.
Cow Hollow Motor Inn
2190 Lombard Street
San Francisco, CA 94123
Tel: 415-921-5800
Fax:  415-922-8515
Hotel Del Sol
This once 50's-style motor lodge has recently been re-created into a stylish and personalized boutique hotel. Located in the Marina District between Lombard Street and Union Street, this colorful California styled hotel will have you feeling like you're living in a fun Malibu beach house. Very kid friendly with a swimming pool and play area. Some even have kitchenettes and some with fireplaces!
3100 Webster Street (just off Lombard Street)
San Francisco, CA 94123
Motel Capri
The Motel Capri is a small, family-run motel in the center of our beautiful Marina District.
Located on a very quiet street of mostly residential homes, the Motel Capri is just a few short blocks from Union and Chestnut Streets where you'll find great shops and restaurants. Clean and comfortable with a kind of 50's vibe. (Also just off Lombard Street)
2015 Greenwich Street
San Francisco, California
USA 94123
Telephone: 415.346.4667
Toll Free: 1.866.671.0772
Fax: 415.346.3256
Our Sponsors