Where the Locals Go — Music Venues
Sort by: Bars/Nightclubs | Music Venues | Comedy Clubs | Theatres | See All Picks
Bimbo's 365 Club
Seating is limited based on a first come first serve basis; there is no reserved seating.
Two drink minimum. Food is available for purchase at every show.  Food is pretty good, drinks are large and music and dancing are available in this beautiful venue.  If you like the entertainment you will especially love the ambiance!
Neighborhood: North Beach/Telegraph Hill
1025 Columbus Ave
(between Chestnut St & Houston St)
San Francisco, CA 94133
415-474-0365

Biscuits & Blues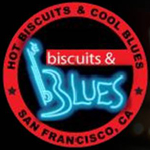 Biscuits and Blues was originally developed as an offering to music lovers who wanted an intimate setting to see their favorite blues artists. Now, thirteen years later, they are one of the top blues clubs in the nation.  Terrific drinks, and a Great Southern dinner menu as well.
401 Mason St, corner Mason St. and Geary Street
San Francisco, CA 94102
415-292-2583
Neighborhood: Downtown off Market St.
The Boom Boom Room
If you love the blues, you'll love the Boom Boom Room.  Small  dark venue with great cocktails and live blues! Located on Fillmore Street and Geary.

The Great American Music Hall
Another of our favorites, and also a smaller venue where you can get up close to see and hear music. The Great American Music Hall books live bands including rock, blues, folk, world music and more.  Dinner is also available for most shows. If you're looking for good food and drink, your favorite artist or discovering some new music in a warm, intimate setting, you will love this venue.
859 O'Farrell Street
San Francisco, CA 94109
Phone: 415-885-0750
FAX: 415-885-5075
Neighborhood: The Tenderloin
Between Polk and Larkin Sts.

Lou's At the Square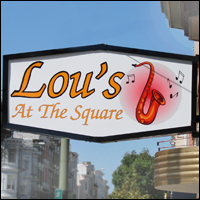 Located on the corner of Stockton and Union Street and facing beautiful Washington Square Park, Lou's is the newest of the new, showcasing local blues and jazz musicians, while serving up some great cocktails. Definitely a locals place, and a bit older clientle, this one is North Beach's latest edition to the music scene and quite possibly the best one yet!
Neighborhood: North Beach/Telegraph Hill
1570 Stockton St
San Francisco, CA 94199
415-989-0399
Slims
This nightclub was originally opened in 1988 by legendary R&B artist Boz Scaggs.  This award winning venue books Blues, R&B, Cajun/Zydeco, Jazz, Alternative, and more. Slims is definitely one of our faves as far as the local scene is concerned.  Just the right size but be prepared to stand most of the evening and get ready to dance as there usually isn't much space to sit.  Usually younger crowd, 20's, 30's depending on whose playing.
333 11th St
San Francisco, CA 94103
415-255-0333
Neighborhood: South of Market
Between Folsom and Harrison St

The Warfield
The Warfield is a classic small concert venue which books bands from all over the country.  If you like small houses where you can get up close to your favorite bands or want to check out some new ones, you should check this place out!
Neighborhood:  Downtown
982 Market Street (at Mason St)
San Francisco, CA 94102
415-567-2060

Yoshi's Jazz Club & Restaurant
The best live jazz bands, delicious sushi and a lively, hip crowd keep this place pretty hot!
1330 Fillmore Street
(415) 655-5600

Our Sponsors