Where the Locals Go — Bars/Nightclubs
Sort by: Bars/Nightclubs | Music Venues | Comedy Clubs | Theatres | See All Picks
Amante's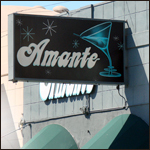 A North Beach cocktail lounge apealing mostly to the 20's-30's locals from North Beach with great food, drinks, and entertainment. Amante's is a bit more upscale and classic in it's design. Live music, special events 100" big screen and a kitchen open nightly. Open 5pm-2am Daily
570 Green St.
Between Stockton and Grant Ave.
415-362-4400
Visa & Mastercard Accepted
Easy Parking Nearby

The Boom Boom Room
If you love the blues, you'll love the Boom Boom Room.  Small  dark venue with great cocktails and live blues! Located on Fillmore Street and Geary.

Lou's At the Square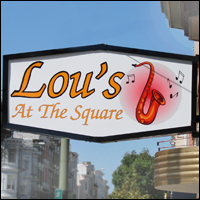 Located on the corner of Stockton and Union Street and facing beautiful Washington Square Park, Lou's is the newest of the new, showcasing local blues and jazz musicians, while serving up some great cocktails. Definitely a locals place, and a bit older clientle, this one is North Beach's latest edition to the music scene and quite possibly the best one yet!
Neighborhood: North Beach/Telegraph Hill
1570 Stockton St
San Francisco, CA 94199
415-989-0399
Rrazz Room @ Hotel Nikko
Located downtown in the Theatre District the Rrazz Room is situated inside the distinctive Hotel Nikko. This sophisticated and fairly new night club offers the best in cabaret, jazz, comedy and other popular music. The Rrazz Room is quickly becoming one of San Francisco's favorite cabarets. This year alone they welcomed showbiz legends like Diahann Carroll, Chita Rivera, Lanie Kazan, Sally Kellerman and Mary Wilson to name a few, and recently finished with a summer run of "American Idols in Concert." This is a two-drink minimum venue, all-ages, with an upscale but casual dress code. Cover varies depending on the show and they offer a small but interesting menu.
222 Mason Street
San Francisco, CA. 94102
415-394-1189
www.theRrazzRoom.com
Slims
This nightclub was originally opened in 1988 by legendary R&B artist Boz Scaggs.  This award winning venue books Blues, R&B, Cajun/Zydeco, Jazz, Alternative, and more. Slims is definitely one of our faves as far as the local scene is concerned.  Just the right size but be prepared to stand most of the evening and get ready to dance as there usually isn't much space to sit.  Usually younger crowd, 20's, 30's depending on whose playing.
333 11th St
San Francisco, CA 94103
415-255-0333
Neighborhood: South of Market
Between Folsom and Harrison St

Starlight Room
Located in the Sir Francis Drake Hotel, this gorgeous gem has a definite 1930's glamour.  Sitting at the very top of the Sir Francis Drake Hotel, expect an over the top quite breathtaking 360-degree view and an equally elegant nightclub setting. Cocktails, hors d'oeuvres, music and a great dance floor complete the package.  Really gorgeous and a great place to see and be seen! Dress up and come enjoy the vibe!
Sir Francis Drake Hotel on the 21st floor
450 Powell Street at the corner of Sutter Street
Reservations: 415-395-8595

The Tonga Room
Located just off California Street, The Tonga Room and Hurricane Bar offers a tropical and festive atmosphere with live entertainment, dancing and believe it or not, a surprise rain storm.  The Tonga Room serves exceptional Pacific Rim Asian Cuisine in a tropical setting.  Really fun for all and quite unusual.
Located inside The Fairmont, San Francisco
950 Mason Street at California Street
San Francisco, California, 94108
TOLL FREE: 1(866) 540-4491
415-772-5000
Neighborhood: Nob Hill


Tony Niks
Tony Niks is a cocktail lounge that offers guests soft lighting, a very retro lounge, some great music and a few quaint tables. This neighborhood bar's friendly and low-key, and you'll find a mostly over 30's single scene going on with lots of locals and some tourists engaged in great conversation.
1534 Stockton St
San Francisco, CA 94133
Phone: 415-693-0990
Neighborhood:  North Beach
Between Union St and Green st.
Top of the Mark
You really must check out the Top of the Mark (Hopkins Hotel that is). If you're looking for a fabulous 360 degree view of San Francisco, and great martinis, this will be one of  your favorite San Francisco spots as well as one that you will remember and want to come back to time after time! The Top of the Mark has been rated as one of the 26 "World's Best Hotel Bars" by Forbes.com two years consecutively. I'd dress up for this one!
InterContinental Mark Hopkins San Francisco
One Nob Hill
(999 California St.) Map
San Francisco, CA 94108
415.616.6916 or 415.616 6940 for more information.
http://www.topofthemark.com/about.html
Our Sponsors